The Riverton Parke Jobs for America's Graduates ( JAG) class participated in the Region 7 Career Development Conference on January 17th. Students competed in events such as: public speaking, writing skills, critical thinking, creative solutions, and employability skills. Four Riverton Parke students earned top honors. Sage Kinsay won second place in public speaking, Emilee Hartzler won second place for employability skills, Addie Moeller won third place for outstanding senior, and Lilly Sanders won first place for career presentation. Lilly will advance to compete on March 13th at the State Career Development Conference in Indianapolis. The RP JAG teacher is Kimberly Snodgrass.
JAG students who participated were, in front from left: Jaylyn Horne, Carmen Ingram, Rebecca Allee, Emilee Hartzler, Robin Mathas, Lilly Sanders, Abby Hoggatt, and Addie Moeller. In the back are: William Cansdale, Sage Kinsey, Hunter Collings, Kalvin Sowers, and Jacob Bolenbaugh.
Pictured with their first and second place certificates are Lilly Sanders and Sage Kinsey.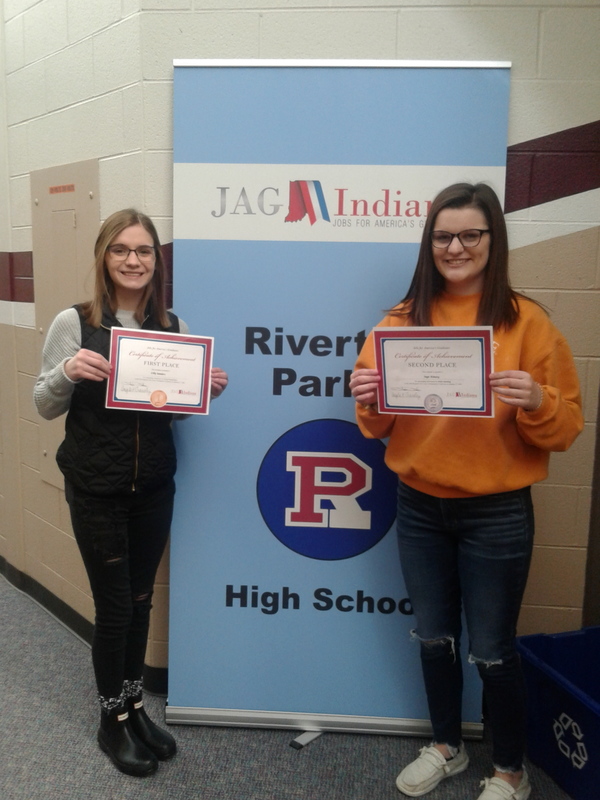 Also pictured with their second and third place certificates are Emilee Hartzler and Addie Moeller.